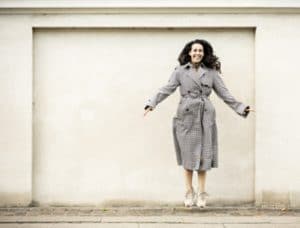 I am a Danish/Moroccan tech entrepreneur, and I was born in Safi in 1975.
I am the proud co-founder of the Silicon Valley-based "Women Reignite Inc," a company helping women making better decisions in life.
I am also the designer of the online video conference and networking software "Happioh."


From our platform, you can host and run your virtual events, job interviews, or product presentations.


The impressive team engaged is people from Google, Youtube, Facebook, and PeopleSoft, etc. The investors and advisors are Angels and investors from MIT, Cloudflare, Mastercard, Yahoo, Volvo, etc.


I am a

virtual keynote speaker streaming my motivational speeches all over the World – and I got more than 1.000 talks under my belt (in 35 countries).
I am a "Young Global Leader" of the World Economic Forum and was shortlisted for the "Ideas into Practice Award" in 2019. In 2020 I was recognized with the Radar Award by Thinkers50.


I am a 7th-grade school drop-out, former homeless child, I was in foster care, and grew up as an unwanted immigrant.
I have had many struggles, and as a result, I have written and co-written more than 14 books on all the mistakes, failures, and obstacles I have had throughout my life. I was born in Morocco, grew up in Denmark.
My pain transformed into my path in 2007 when laid off while I was pregnant with our first child. It was a turning point in my life. I was a mom to be and the breadwinner of the family, and it was hard losing my job. That same year, I decided to start my own consulting company.
I had no idea what to do, but I needed to make a living. All I had was my skills in sales, sales training, strategic sales/strategic partnership, supply-chain management, and strategic networking. Those are my "hardcore" skills and talents, and it was easy for me to teach others.
So, I decided to start training others

. That was

the beginning

of my consulting company, which led me to become a global keynote speaker, life designer, online coach, and now a bestselling author and software entrepreneur.
However, if it weren't for my strategic networking skills and the ability and courage to speak out on topics that I am passionate about, I would not have succeeded.
As a result, today, I have now done thousands of public talks around the World, for some of the World's most innovative companies, such as Volvo, NOVO NORDISK, Siemens, and A.P. Moller Maersk.
I used to work as an executive at Maerks Data (IBM) and HP, Denmark.
Adversity made me stronger. Throughout my upbringing, I developed some qualities and survival techniques that still play an essential part in my drive for success.
I cannot change my childhood, but I can appreciate that it is over.
What's important is not where you come from but where you are going. Having a great career and personal life is all about having the courage and the ability to seize the opportunities that you run into.
I believe that people can decide to become successful and reach essential goals through hard work and perseverance.
The foundation for my leadership, values, focus, and sense of responsibility can be traced back to my challenging childhood. My days of hardship have been transformed into something very positive.
I have shared those thoughts in many podcasts and books.
I also wrote about this journey and shared my leanings in the e-book "Ignite your Career," and it was downloaded in more than 350.000 copies. Buy it here for $8.99.
I support many organizations and charities, including UN Women Advisory Group (Denmark), SAC World Economic Forum, YGL, Gender equality (Geneva), The School Challenge Team (worldwide), The Global Teacher Prize, and many more.
You can book as your next live or virtual motivational speaker via my speaking agent CraigS[at[bigspeak[dot]com
If you want to follow my work feel free to read my weekly FORBES
After 14 years in Denmark

, we decided in 2016 to move to Austin, Texas, and now we live in California, Palo Alto from here we run Women Reignite Inc. and "Happioh".
It is healthy to move to other countries once in a while.
I have lived in Luxembourg, Switzerland, and Norway and find that these moves boost my creativity, network, and cultural understanding.
I am a proud mom of two. I am passionate about traveling, art, and sport. I have always been very active in competition with a passion for more extreme disciplines.
I was one of the finalists in the 1995 Miss Fitness Denmark competition. I have participated in a couple of "adventure extreme races," which are twenty-four-hour orienteering races with a multitude of athletic challenges.
This is Soulaima Gourani with her family