Soulaima Gourani is the auther of several books and has contributed to a number of titles  and  international bestsellers like; "Unboss" and "NEVERTHELESS WE PERSISTED".
How to Turn Customers into Fans
It's not enough to convince customers to return to your site or store or buy your product more than once. If you really want to take your company to the next level, you need to convert a customer into a fan. Fans are the absolute key to scaling a business.
"Busy Mum – So what"
A book about being a mom and an entrepreneur.
The sole purpose of this e-book is to empower women through truely inspiring stories of some of the most successful moms in the world. Learn from the ones who have had to build amazing careers while being moms. It IS possible to combine motherhood and ambitions. You owe it to your kids and not least to your self to go out and fulfill your own ambitions. You only have this one life. Make the most of it.
"Courage to Succeed"
Do you feel stuck in a rut?
Are you tired of your boss?
Are you disappointed that your colleague, not you, got promoted?
Are you bored with your work or with life?
Are you annoyed that you never got the opportunity to pursue your dream?
The good news is that no one will come to rescue you. You have to take full responsibility, you are the key to change—and the opportunities are right there for you to seize.
– Kiss the employee mentality good-bye.
– Challenge your endurance.
– Find your inner drive.
– Reach your goals.
In this book, Soulaima Gourani honestly and inspiringly shares her story and experiences, peppered with sharp opinions about the future, success, competitiveness, willpower, responsibility, and endurance. It is about finding the courage to take on life, not being afraid of setting ambitious goals (and saying them out loud), stepping out of the comfort zone, choosing the road to success, and working hard to reach the finish line.
"Ignite Your Career – The New Grads Bible"
Published by bookboon.com and more than 300.000 copies downloaded.
The book is intended primarily for newly graduated, but can be read by anyone who wants to boost their career.
'Ignite Your Career' is a tool providing you with inspiration, practical guidance to start your career and great advice based on Soulaima Gourani's own experience. It is packed with proven methods to use in your daily interactions with colleagues, managers, industry professionals, and customers—anybody that you will interact with during your career. Get it here: https://bookboon.com/dk/ignite-your-career-ebook
"Take control of your career"
The bestseller Take control of your career by Soulaima Gourani is a practical guide to a more successful and satisfying working life.
The book is direct and honest and provides challenges for both personal as well as professional development. Soulaima stirs up your self-esteem, helps you rediscover your skills and make you confident and courageous, so you can get much more out of your working life. Get it here (english version): http://soulaimagourani.dk/product/take-control-of-your-career/
Books Soulaima has contributed to
"107 Danske Pippi-piger"
Meet 107 Danish women from the past and present – pioneering women, frontwomen, science women, queens and pattern breakers. This book is dedicated to the little daydreamer that wants something more. Be inspired by tales of brave women who dared and wanted to change things. From Karen Blixen to Anja Andersen, from Countess Danner to Anne Linnet, from Liva Weel to Mø and many many more.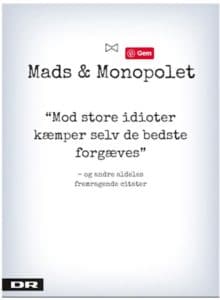 "Mads & Monopolet – Mod store idioter kæmper selv de bedste forgæves"
Soulaima Gourani has participated several times in P4's radio program 'Mads & Monopolet'. The book: 'Even The Best Can't Fight Idiots' – Filled with several hand-picked clever quotes from Mads & Monopolet from 2003 to 2018. The biggest idiot in Denmark has a name. His name is Preben. And I love him. Preben is all of us. He is unstoppable. Even the best fight in vain against him..:
Buy the book (In Danish)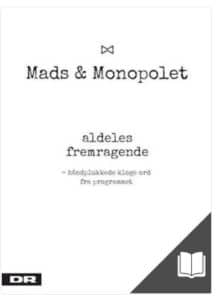 "Mads & Monopolet – Aldeles Fremragende"
Soulaima Gourani has participated in the radio show: 'Mads & Monopolet' several times. Now Mads Steffensen has selected the very best quotes from the show in the book 'Absolutely Fremragende': It is a trip down memory lane, with great advice and opinions on many different issues.: Buy the book (In Danish)
"NEVERTHELESS WE PERSISTED"
A powerful collection of essays from actors, activists, athletes, politicians, musicians, writers, and teens.
Soulaima Gourani is so honored and proud to be a " case" in this amazing new book. Each contributor has shared a private piece of themselves – deeply hurt, anguish, love and ultimately, triumph. This world is truly a better place with their collective voice. And how rad is this cover! Get it here: www.amazon.com
"Plot Twist"
 by Marc Sephton, 2017
Soulaima Gourani has contributed to Plot Twist to support a growing global spirit of entrepreneurship.
Plot Twist, is a guide to successfully navigating our visions and goals for life even when things come from left field to take us in a new direction. Learn how to stop resisting change or dwelling on what might have been to, instead, focus on what could be.
"Do you dare dream? – nothing is standing in your way"
By Mariam Hassanain, 2016.
Soulaima Gourani has contributed to this book by Mariam Hassanain, in which a long line of strong personalities who has endured hardship are describing how they have persued their dreams and that the odds were not always on their sides. Soulaima Gourani is talking about how anger and rebellion have been an incredible driving force forwards her goals.
"Find Your Spark"
By Henning Daverne
Soulaima Gourani contributes as a case in the book and tells how she keeps her spark and energy in her work. (in Danish)