Soulaima Gourani is the auther of several books and has contributed to a number of titles  and  international bestsellers like; "Unboss" and "NEVERTHELESS WE PERSISTED".
---
"Busy Mum – So what"
A book about being a mom and an entrepreneur.
The sole purpose of this e-book is to empower women through truely inspiring stories of some of the most successful moms in the world. Learn from the ones who have had to build amazing careers while being moms. It IS possible to combine motherhood and ambitions. You owe it to your kids and not least to your self to go out and fulfill your own ambitions. You only have this one life. Make the most of it.
---
"Courage to Succeed"
Do you feel stuck in a rut?
Are you tired of your boss?
Are you disappointed that your colleague, not you, got promoted?
Are you bored with your work or with life?
Are you annoyed that you never got the opportunity to pursue your dream?
The good news is that no one will come to rescue you. You have to take full responsibility, you are the key to change—and the opportunities are right there for you to seize.
– Kiss the employee mentality good-bye.
– Challenge your endurance.
– Find your inner drive.
– Reach your goals.
In this book, Soulaima Gourani honestly and inspiringly shares her story and experiences, peppered with sharp opinions about the future, success, competitiveness, willpower, responsibility, and endurance. It is about finding the courage to take on life, not being afraid of setting ambitious goals (and saying them out loud), stepping out of the comfort zone, choosing the road to success, and working hard to reach the finish line.
Courage to Succeed is available in Danish here
---
"Ignite Your Career – The New Grads Bible"
Published by bookboon.com and more than 300.000 copies downloaded.
The book is intended primarily for newly graduated, but can be read by anyone who wants to boost their career.
'Ignite Your Career' is a tool providing you with inspiration, practical guidance to start your career and great advice based on Soulaima Gourani's own experience. It is packed with proven methods to use in your daily interactions with colleagues, managers, industry professionals, and customers—anybody that you will interact with during your career. Get it here: https://bookboon.com/dk/ignite-your-career-ebook
---
"Take control of your career"
The bestseller Take control of your career by Soulaima Gourani is a practical guide to a more successful and satisfying working life.
The book is direct and honest and provides challenges for both personal as well as professional development. Soulaima stirs up your self-esteem, helps you rediscover your skills and make you confident and courageous, so you can get much more out of your working life. Get it here (english version): http://soulaimagourani.dk/product/take-control-of-your-career/
---
Books Soulaima has contributed to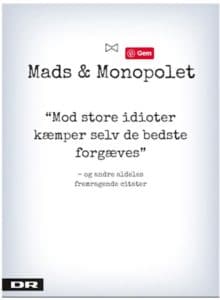 "Mads & Monopolet – Mod store idioter kæmper selv de bedste forgæves"
Soulaima Gourani has participated several times in P4's radio program 'Mads & Monopolet'. The book: 'Even The Best Can't Fight Idiots' – Filled with several hand-picked clever quotes from Mads & Monopolet from 2003 to 2018. The biggest idiot in Denmark has a name. His name is Preben. And I love him. Preben is all of us. He is unstoppable. Even the best fight in vain against him..:
Buy the book (In Danish)
---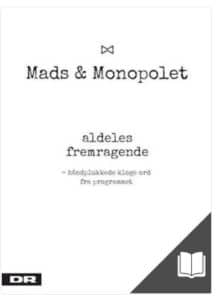 "Mads & Monopolet – Aldeles Fremragende"
Soulaima Gourani has participated in the radio show: 'Mads & Monopolet' several times. Now Mads Steffensen has selected the very best quotes from the show in the book 'Absolutely Fremragende': It is a trip down memory lane, with great advice and opinions on many different issues.: Buy the book (In Danish)
---
"NEVERTHELESS WE PERSISTED"
A powerful collection of essays from actors, activists, athletes, politicians, musicians, writers, and teens.
Soulaima Gourani is so honored and proud to be a " case" in this amazing new book. Each contributor has shared a private piece of themselves – deeply hurt, anguish, love and ultimately, triumph. This world is truly a better place with their collective voice. And how rad is this cover! Get it here: www.amazon.com
---
"Plot Twist"
 by Marc Sephton, 2017
Soulaima Gourani has contributed to Plot Twist to support a growing global spirit of entrepreneurship.
Plot Twist, is a guide to successfully navigating our visions and goals for life even when things come from left field to take us in a new direction. Learn how to stop resisting change or dwelling on what might have been to, instead, focus on what could be.
"No Make Up" 
 by Morten Fauerby, 2017
A book where 60 role models in Denmark (including Soulaima Gourani) are portrayed without makeup nor photo manipulation.  (In Danish)
Get a look behind the scene
Read more about the book
"Will To Succeed"
By Anne Axholm, 2011
"Will To Succeed" is businessman Lars-Christian Brask's own tale of his life. Among other things he engaged him self in driving races and managing tours for the pop band Aqua. In the book, Soulaima shares experiences and visions for Denmark.
"Do you dare dream? – nothing is standing in your way"
By Mariam Hassanain, 2016.
Soulaima Gourani has contributed to this book by Mariam Hassanain, in which a long line of strong personalities who has endured hardship are describing how they have persued their dreams and that the odds were not always on their sides. Soulaima Gourani is talking about how anger and rebellion have been an incredible driving force forwards her goals.
"Crowdinnovation – Can I borrow your brain?"
By Susanne Rubæk, 2016
Soulaima Gourani contributes with an article on the subject.
"Unboss"
 by Jacob Bøtter og Lars Kolind, 2012
UNBOSS is writen in cooperation with 100 visionary personalities from all over the globe among them Soulaima Gourani. They have come up with new ideas and examples on management.
"12 minutes to succes"
By Henning Daverne, 2011.
Soulaima Gourani contributes with personal anecdotes, in which she descibes her own approach to gain better mental balance.
"Life Balance" 
By Marlene Horsbøl Sylvester-Hvid og Rolf Sylvester-Hvid, 2009.
A book about life values in which Soulaima Gourani contributes.
"Shut up and answer back"
Edited by Nanna Muusmann, 2009
13 authors takes part in the debate on youth and responsibility. Soulaima Gourani is one of the contributors.
"Flemming"
The man behind the myth Don Ø
By Marie Lade, 2008
Soulaima Gourani has contributed to this book about her mentor Flemming Østergaard.
"It only takes 324 days to change lifestyle."
By Flemming Christensen, 2009.
A book about being true to your self. Soulaima Gourani contributes.
"Nice girls do not earn the big bucks"
By Lois P. Frankel, 2007
Soulaima Gourani contributed to this book.
"Reality is wise"
by Thomas Rosenstand, 2012.
The preface is written by Soulaima Gourani.
"Power Women"
By Vibeke Hartkorn, 2006.
Vibeke Hartkorn interviews 12 influential Danish women about drive, power hardship. Soulaima Gourani is one of the 12 women interviewed.
"Find Your Spark"
By Henning Daverne
Soulaima Gourani contributes as a case in the book and tells how she keeps her spark and energy in her work. (in Danish)
"No Make Up"
6o leading Danish women participated in this book, showing themselves in a photograph wearing no make up.
This is a photo/debate book on women and body ideals of the present.
"In your first job"
By Lene Leth Thomsen.
Soulaima Gourani participated in this book, contributing with quotations and encouragement.
"Succes pilot"
By John Evan-Jones, 2005
Soulaima Gourani contributes in an interview as a so called succes guide.
English Blogs
Soulaima often blogs in English and shares unique knowledge and experiences that readers can benefit from. Read some of her English blog posts below or see her recent posts at LinkedIn
Also you will find all her interviews, blogs, Forbes and WEF columns, tv, radio and podcasts shows interesting:
Follow her work and public media coverage here: https://soulaima.com/press/
Why Everybody Should Start Out with Running an NGO
---
Would you like to learn how to build an organization without spending a penny from your pocket and how to make people fulfill their responsibilities and be involved in your organization without earning anything except recognition and acknowledgment? Considerable things can be learned from the NGO world, and I would like to share some of the learnings in this Amino newsletter. Read the blog here.
Things Successful People Do!
---
Successful entrepreneurs are always asked, "How did you do it?" and "What is the secret behind your success?" Soulaima often overhears this kind of conversations involving some of the world's most successful entrepreneurs. In addition to typical traits such as passionate, hardworking, and competent, there are a few other general characteristics that often play an important role in these people's success. To get an insight in these characteristics, read the blog here.
The toilet roll test
---
Do you know the feeling, you enter a new working environment and everything seems too good to be true? And quite right, it is too good, and workplaces know exactly how to hide their flaws – until now! Here you will get 4 Tips from 4 significant men who have great experience with visiting workplaces. Read on here and find out what you need to consider the next time you are visiting new working environments. Read the blog here.
From IQ to EQ
---
We used to believe that a high IQ, by definition, results in a successful career. That is not the case anymore—now a high IQ can be regarded as a social challenge. These days, we focus on emotional intelligence (EQ) instead. Companies are increasingly hiring people with emphatic abilities, intuition, self-knowledge, and social skills. Read the blog here.
Pain is temporary — quitting lasts forever
---
The only way to become a successful entrepreneur is by working hard every day. There is no shortcut in life, and think twice when articles or books claim that you can change your life as if by magic. Read the blog here.
Prepare your own and our children for tomorrow
---
I recently spoke for a regional authority and its decision makers for youth and education. They asked if it is necessary to rethink our educational system! Which countries do you think will become the winners in the future? Which type of employees do you think we need tomorrow? Teachers and parents should be very interested in these questions. Read the blog here.
What You Should Know Before You Find a New Job
---
Are you dreaming of finding a new job? Data indicate that job ads are read more thoroughly during vacation breaks. Many people start thinking about finding a new job when they have some time off from their current one. Before you decide on saying yes to a new job, you should carefully consider if you just need a long vacation, if you are just feeling bored, or if you really do need a new job. Read the blog here.
The Lazy Brats
---
I just spoke with a young guy who has been called "unrealistic" and "spoiled" by a potential future employer. Hmmm… These years, many fresh and promising young people are entering the job market, but the integration of these new graduates into the workforce is not going all that well! Your company will only survive if you understand this generation. Why should they choose to work under your management? Read the blog here.
Hooray for Mistakes
---
When in life do you learn the most? I have no doubt about when I learn the most: when I make mistakes and don't succeed in the things I am doing. I have made many mistakes — so many that it is possible to write a whole book about it! This blog post is about not being afraid to make mistakes, having the courage to share your mistakes with other people, and learning from your important mistakes. Read the blog here.
The Things You Don't Know That You Forget
---
I have a driver and I have noticed that he never writes anything down. He told me that if he writes things down, his brain becomes flaccid and slow, and over time, I will end up forgetting things. That gave me something to think about! A flaccid brain — who would want that? Read the blog here.
Sack the salesman
---
Do you hear yourself using terms such as "customers," "salespeople," "sales departments," "frontline staff," and "sales campaigns"? Continue reading to discover why these functions, terms, and disciplines are undergoing changes. Learn how to create loyal fans and build strong relationships with your customers so that they will not replace you with a competitor. Read the blog here.
How to Make People Help You Again and Again!
---
Over the past ten years of intense work with networking and relationships, I am beginning to see a clear pattern. Would you like to receive help again and again? Do you need people to act as your ambassador and recommend you to their networks? If yes, then you have to develop a so-called thank-you strategy. Read the blog here.