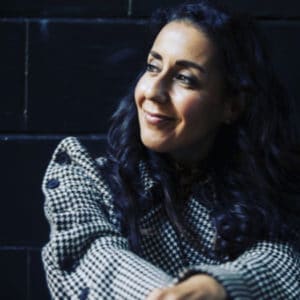 Soulaima Gourani is co-founder of the Silicon Valley-based software company Women Reignite. She is a firm believer that there are tremendous opportunities for educating women via phones and online communities to improve their well-being.
She is mission-driven for a more significant social impact. Women Reignite bringing women together when they need each other the most. As long as it remains unwise to gather in physical spaces, we will need to create virtual spaces that can sustain women. Women rethink their devices and what kind of community they can create through them. This pandemic will shift the paradigm of where our social life takes place.
There is a REAL need for an online platform to reignite and connect women to world-class experts.
Women Reignite Inc. is a micropayment subscription-based platform for women with life ambitions. Our online tools, combined with world-renowned influential guest hosts and "semiprivate" support groups back our mission to hatch the female role models of tomorrow. Her investors are among some of the most influential techies in the World. It is the vision of Women Reignite Inc. impact and engage 200 million women by 2040.
Soulaima Gourani is also the designer of the online video conference and networking software "Happioh." From their platform, you can host and run your virtual events, job interviews, or product presentations. The impressive team is people from Google, Youtube, Facebook, and PeopleSoft, etc. The investors and advisors are Angels and investors from MIT, Cloudflare, Mastercard, Yahoo, Volvo, etc.
She is a "Young Global Leader" of the World Economic Forum, and was rewarded with the Thinkers50 Ideas into Practice Award 2019 & the "Thinkers50" Radar 2020 Award.
She is also a contributor to Forbes Leadership Channel. Soulaima is a frequent motivational keynote speaker at major conferences + (co) authored several bestseller books and has contributed to more than 14 books on how to get success in life, life design, and "future of work".
Everything she does always serve a common purpose: to create more innovators, critical thinkers, and problem-solvers– more peace in the World.
She has worked for clients e.g., Samsung, Roche A/S, Leo-Pharma, NNIT, Genzyme, Aberdeen, DuPont, LEGO, McKinsey, DELL, Microsoft, Harvard Kennedy University, Adecco, Alk Abello, Aon Hewitt, Citroen, Colliers, Diageo, Cisco, Ernst & Young, Volvo, FL Smidth, H. Lundbeck, IBM, TDC, SimCorp, Novo Nordisk, Novozymes, News Corp, Danske Bank, and Deloitte, etc.
Soulaima travels extensively for speaking, and her talks took her to Scandinavia, Finland, Greenland, Austria, Hungary, Germany, UK, France, Italy, Saudi Arabia, Israel, Russia, Mongolia, Dubai, Sri Lanka, Myanmar, India, Greece, Thailand, Egypt, Venezuela, Morocco, Turkey, USA, China, Lebanon, Japan, Switzerland, Mexico, Bahrain.
You can book Soulaima as a virtual online speaker at Big Speak.
At the age of twenty-eight, Soulaima Gourani was recognized Denmark's brightest businesswomen when she received the prestigious Rising Star award and the Talent 2004 award. Since then, she has gained valuable management experience from companies such as Hewlett-Packard and A.P. Moller-Maersk.
Soulaima is listed as one of the top 100 talents in Europe to keep an eye on by the well-esteemed French magazine Courrier International, and in March 2012 she was selected as one of the 192 young global leaders (YGL) in 2012 by the World Economic Forum (WEF) Young Global Leaders.
In 2012 Soulaima Gourani was recognized as one of the 20 most business-minded people in the Nordic countries by Nordic Business Forum. In 2014 she was selected to be amongst '40 under 40′ European Young Leaders by EuropaNova and Friends of Europe, and in 2016 she was appointed to be amongst the 'Inspiring fifty' European list of inspiring role models well as selected to be UN Woman Ambassador Advisor. In 2017 Soulaima Gourani made 'Top 100 women' by Berlingske Business Magazine in Denmark.
In 2019 she was shortlisted for the Thinkers50 Ideas into Practice Award.
In 2020 she was rewarded as THINKERS50 RADAR CLASS OF 2020.
Motivational keynote speaker
Soulaima Gourani is a much sought-after speaker, where her role is to revitalize international companies in areas such as the future of work and life after Corona!
She is a very experienced virtual keynote speaker.
Throughout her career, Soulaima has inspired and challenged an impressive number of the worlds' most significant and most innovative companies—a fact that her list of references can testify to.
She is in high demand because of her 20 years of management experience in multinational companies, her vast knowledge and innovative approach to sales, her management strategy, her career development, her ability to predict how markets will respond and change, and her almost-unlimited energy and authenticity.
She was rewarded for these qualities when she received an award as a speaker of the year in 2010 in the category Trends and Tendencies.
Soulaima Gourani is a virtual keynote speaker and co-founder of the Silicon Valley-based software company "Women Reignite Inc."
www.womenreignite.com
She is a YGL/Young Global Leader of the World Economic Forum and named #30 in the World by Thinkers50.
A corporate adviser and sparring partner
When some of the most innovative and prestigious companies need counseling regarding sales strategy, management, relationship building, employee development, or customer loyalty, they often choose to engage Soulaima Gourani. Companies enjoy her innovative and uncompromising approach to her role as a speaker, moderator, and advisor.
Soulaima Gourani also works as a personal sparring partner for some of the most demanding and ambitious leaders, whom she challenges both professionally and personally to help them become more professional and passionate leaders with a focus on loyalty in every step of the company's value chain.
Career
Her career has been built through employment at multinational companies such as Hewlett-Packard and the A.P. Moller-Maersk Group. Here, Soulaima has accumulated business and sales competencies through significant line responsibility for sales, budgets, and staff. Moreover, she is active as a member of the board of directors in several companies.
Soulaima Gourani holds a master of business administration (MBA) from the Copenhagen Business School, where she later taught supply chain management.
She has lived abroad for several years and is now living in Palo Alto, California. Soulaima Gourani is half Danish, half Moroccan, and has studied at Stanford, Harvard, Berkeley, Yale, INCAE, and Beijing University. You can read more about her professional life in Soulaima's Speakers Bio and LinkedIn profile.
Read more about Soulaima's background and everyday life and further about her organization, concerning the company-, colleague- and customer philosophy and critical issues – charity work, events, and causes.