Be inspired by one of the most booked online speakers in the world. Soulaima Gourani has been speaking in more than 35 countries and has done more than 2.000 talks. 
With the Covid-19 virus spreading at alarming rates, most conferences between now and June 2020 have either been canceled or postponed. You could do something else…!
Convert your event into a virtual conference.
Online keynotes are the future of speaking. Soulaima Gourani can broadcast her keynotes and presentations to a remote audience anywhere in the world and she is full of energy and as powerful online as she is in real life. She has got a  professional studio in Palo Alto with amazing light, sound etc.  She is one of the most popular motivational speakers in the world and globally rewarded for her enthusiasm, humor, cutting edge knowledge on the latests trends and tendencies from Silicon Valley and her mind-blowing personal story (the true hero's journey). 
Soulaima Gourani is passionate about her online presentations and assessments of her speeches has been very positive. In addition it is a very cost efficient way to have Soulaima Gourani speak for you and your audience.
We can also help YOU run your next webinar and keynote remotely as a pro. 
Moving conferences online can solve other problems, too: it reduces travel costs, environmental pollution, and accessibility concerns. Cutting out the in-person costs can also significantly reduce the price of admission and lets conference organizers invest more of their budget into speakers. For Soulaima Gourani to speak in person she will often have to travel many hours to get your event and you will need to pay her a (very) good hotel and fly her back to Silicon Valley.
Broadcasting her keynotes and presentations saves lot of traveling, CO2 and other expenses.
Why companies prefer online keynotes
Interfacing with a screen is often more normal than interacting with someone face-to-face. It empowers interaction, even for the shy people. Introverted people are more apt to weigh in on a discussion when it's a digital dialogue since they can write questions along the presentation.
Broadcasting keynotes are less expensive. It allows a virtually unlimited amount of people to enroll, you can record it and share with others after the presentation.
Ask for Soulaima Gourani to come join your virtual conference as an online speaker or as an online EMCEE  
References: United Nations, World Economic Forum (WEF), The Impact Lab (NYC), The One Health Company/FidoCure (USA), INCAE (Costa Rica), JOLT (NYC) Stenaline (Scandinavia), Lederne (Denmark) and Copenhagen Business School (Denmark) just few of many references.
Online moderation
An often very overlooked part of any online experience, debate, webinars and discussions is the role of the online EMCEE/moderator/host. As host you got many responsibilities:
You are the primary contact before, during and after the event.
How to prepare your speakers?
Tips on how to look professional (light/sound/backdrop)
How to get people to join your event (invite/marketing)
How to get good speakers?
How to ask questions during a webinar/event?
How to monitor activities and discussions?
How to create "break out rooms" for participants etc.
We offer a 5 hours coaching package /online training (1 person) incl. live feedback on your future session(s)= $2.000. Send us an email for request or booking.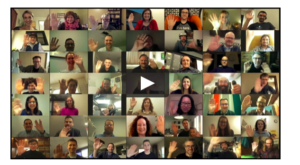 Testimonial
Soulaima, you nailed it! Feedback from the team was outstanding, and their engagement throughout the talk made it very clear that they were enjoying and learning so much. They reached our and already want the next Jolt talk :)

Nitzan Cohan Arazi, Co Founder, JOLT
Soulaima was really great and the team was inspired!
The sound and video quality were very high! I don't have any suggestions for improvements.

Alon Alroy, Co Founder of Bizzabo
Very inspirational, she provides substance for reflection, serious and spiced with a good humor. We have received a lot of positive feedback from the audience afterwards

Boardmember, "Lederne Storstrømmen"